Complete introduction to CNC hardware & Pokeys USB CNC controllers

See our CNC USB Controller. You can find a list of manuals/blog posts that explain, how to use the PoKeys CNC device as efficiently as possible and an introduction to CNC hardware & PoKeys USB CNC Controllers.
PoKeys57CNC is a blend between a general-purpose PoKeys device and a motor controller.
This schematic shows how the controller is connected to a computer and motor drivers.
The controller must be connected to motor drivers which drive motors. The computer is connected to a USB or Ethernet connector.
You can also connect limit switches, jog buttons, spindle motors, encoders, adapter boards, PoKeys I/O devices, and other inputs/outputs to control.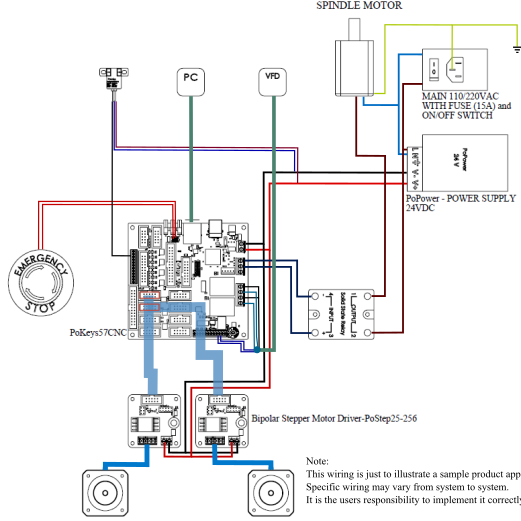 Brief explanation the parts of CNC hardware:
PoKeys57CNC – CNC controller has many features and different types of applications. The CNC controller is the brain of the CNC machine and we need to add the motors, drivers, homing sensor, spindle motor, adapters, PoKeys I/O devices, and some other peripherals we need to make the CNC machine to the expectations and needs.
USB CNC Controller
PoKeys products line consists of simple, easy-to-use USB and network devices with an extended list of features making them powerful input/output devices.
PoKeys57CNC features both USB and Ethernet connectivity, giving users an option to select the preferred connection for the application. The device is highly adjustable and as such requires no complex knowledge of on-device programming.
The controller is targeted primarily for controlling up to 8 STEP/DIR signal-driven motors (stepper motors, servo drives, etc.) in various applications with the addition of powerful PoKeys device features. The device contains dedicated connectors for connections with motor drivers, pendants, (HD44780-compatible)
LCD module, etc. In addition, 5 analog inputs with the 12-bit resolution are available. The device also features four galvanically-isolated open-collector outputs and 0 to 10 V analog output.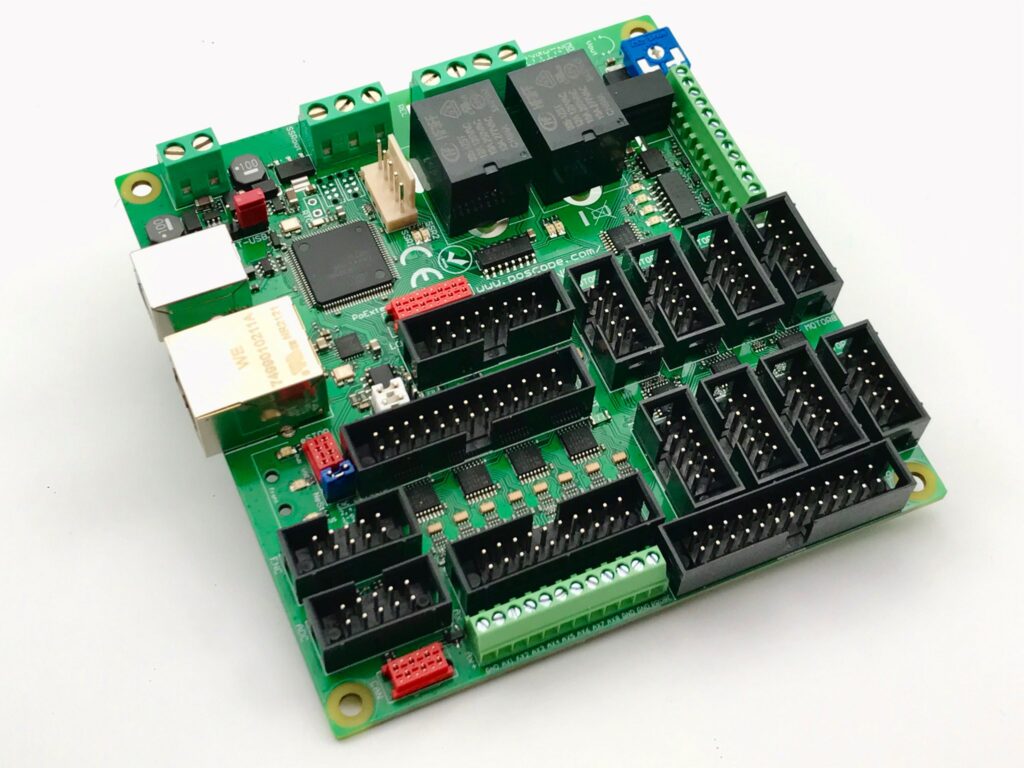 Stepper Motor Driver
The PoStep25-256 is a high-performance, cost-effective stepping motor driver with Smooth tune – intelligent stepping motor control. The driver incorporates an advanced architecture and surface mount technology to achieve an exceptional power density.
Moreover copper on the printed circuit board is 2 times thicker than in most Printed Circuit Boards. In conclusion, PoStep25-256 has a state-of-the-art thermal design. Thick copper and additional heatsink guarantee the best thermal performance and low heating. Low footprint, high power density, and robust design is a key to reliable bipolar stepper motor driving.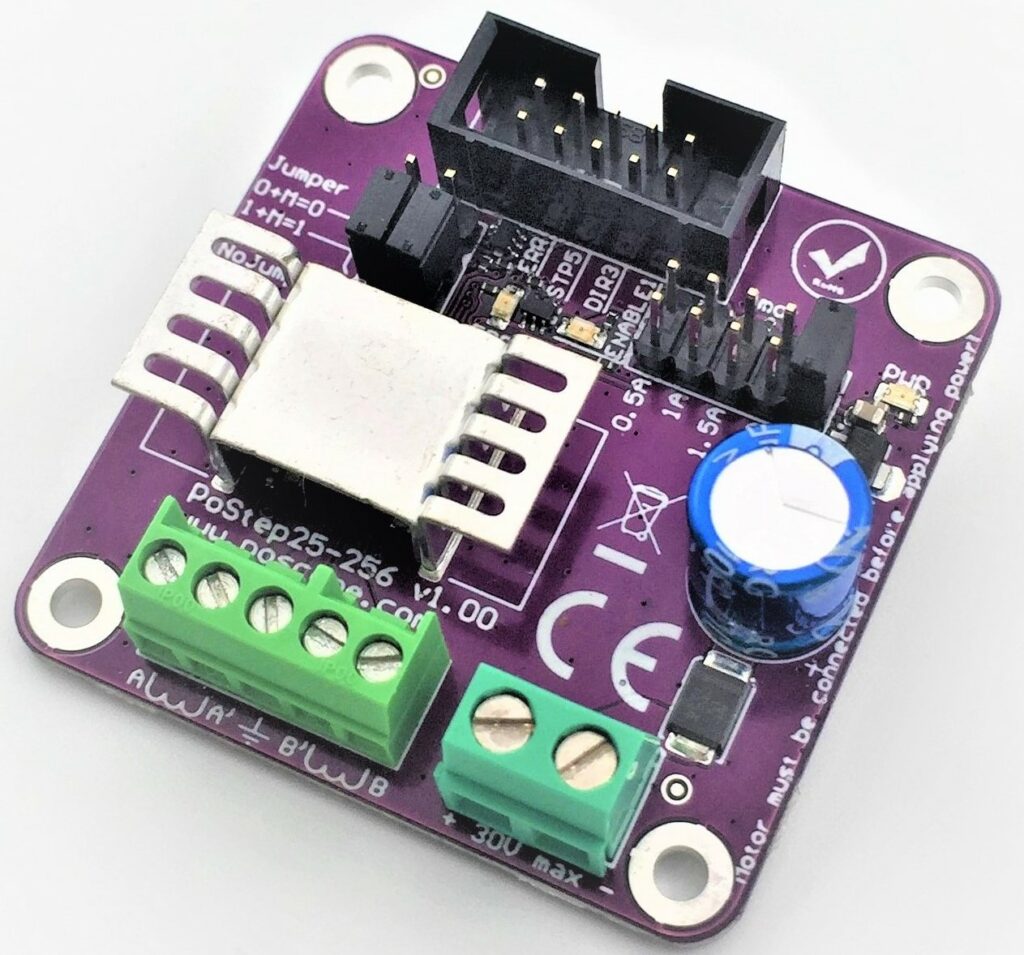 The PoStep60-256 driver incorporates an advanced stepper motor controller and external N-channel MOSFETs to drive a bipolar stepper motor or two brushed DC motors. A micro-stepping indexer is integrated, which is capable of step modes from full step to 1/256-step.
An ultra-smooth motion profile can be achieved using adaptive blanking time and various current decay modes, including an auto-mixed decay mode. A simple step/direction or PWM interface allows easy interfacing to controller circuits.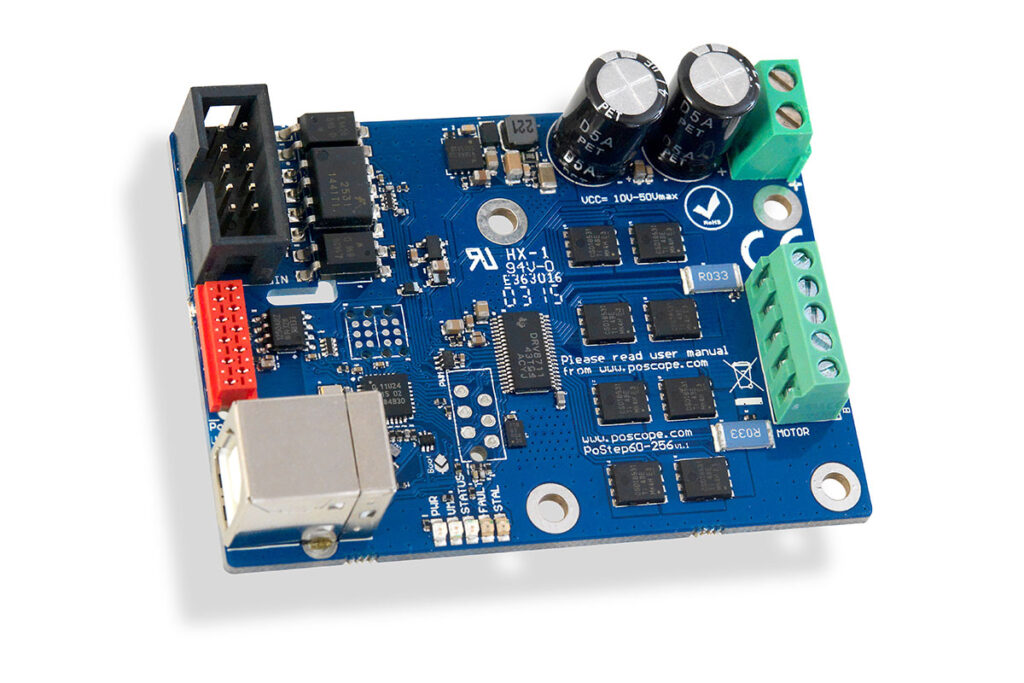 Stepper Motor
For PoStep25-256 and PoStep60-256 we offer NEMA17, NEMA23 and NEMA34 stepper motors. For the right choose for your needs read product specifications.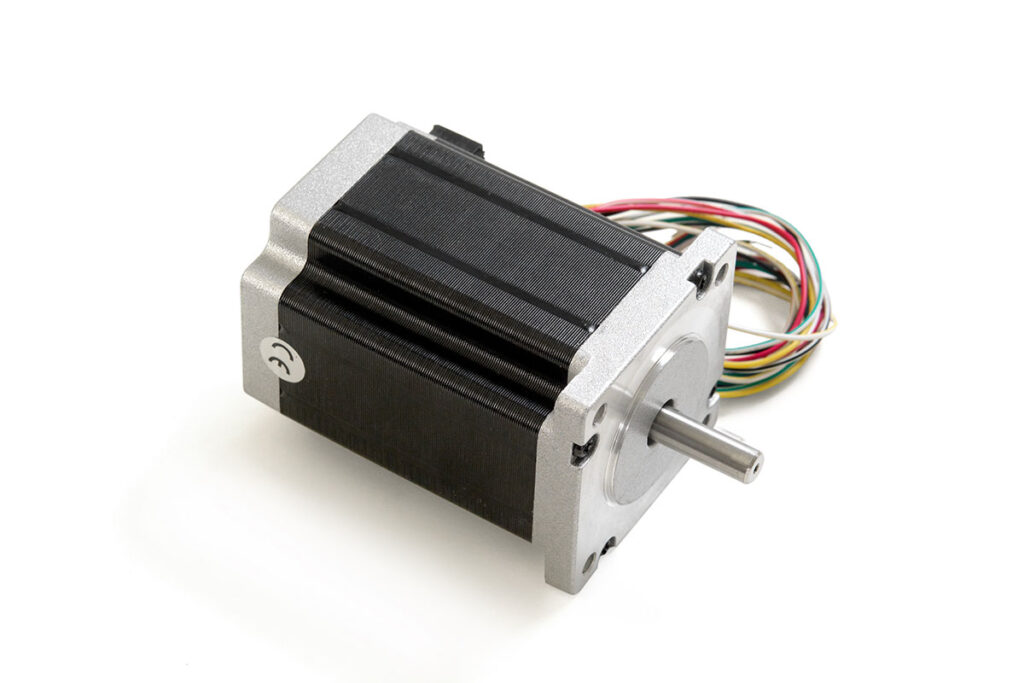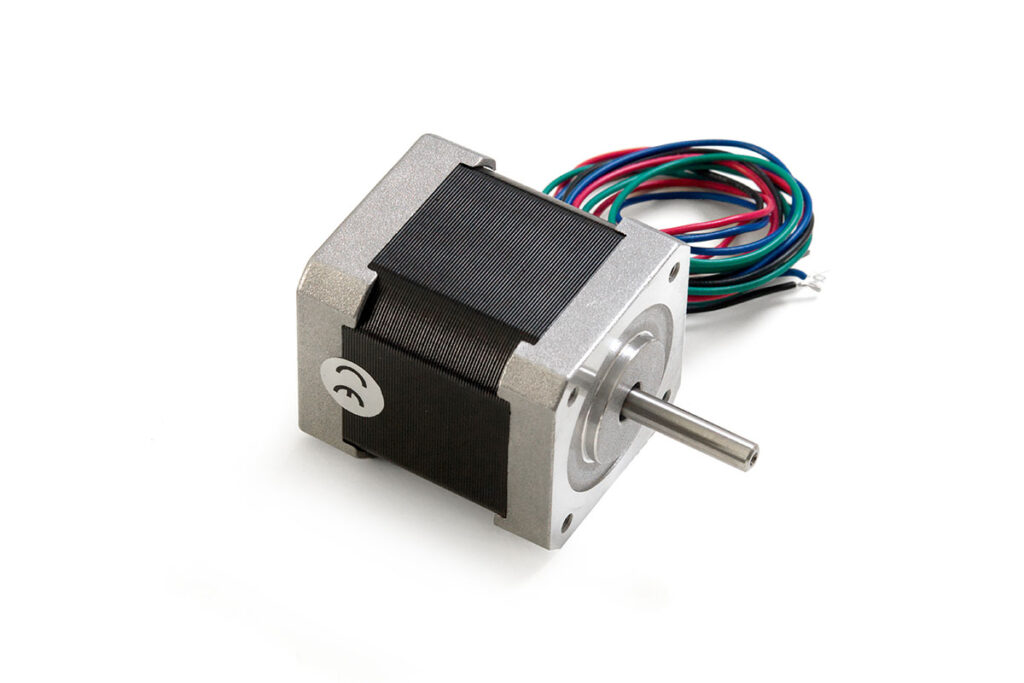 Relay Boards
PoRelay8 – CAN smart relay incorporates 8 electromechanical relays with terminals for NO, NC, and common relay contacts. There is one green LED for power supply indication and 8 additional LEDs for relay operation indications. The device can be mounted to a standard DIN rail using the DIN rail mount adapters or directly via 4 mounting holes.
PoRelay8 is available either with 12 V or 24 V relays.
Features
Daisy chaining of up to 10 PoRelay8 boards from the single PoExtBus connector
8 built-in electromechanical relays with NO, NC and common contacts
5 wires board-to-board ribbon cable for connecting to master device or chaining
Improved reliability over original PoExtBusRe boards
Daisy-chaining over CAN bus, allowing greater distances between each board in the chain with much improved noise immunity
Prepared for DIN rail mounting with DIN rail mount adapter
Relay module compatible with Raspbery Pi: How to use it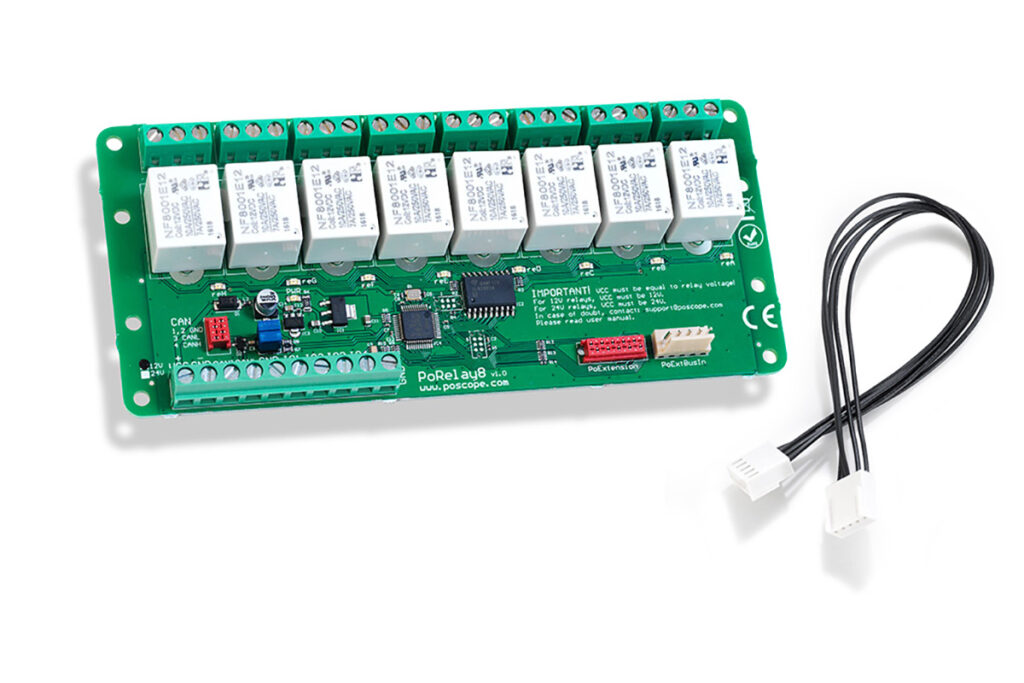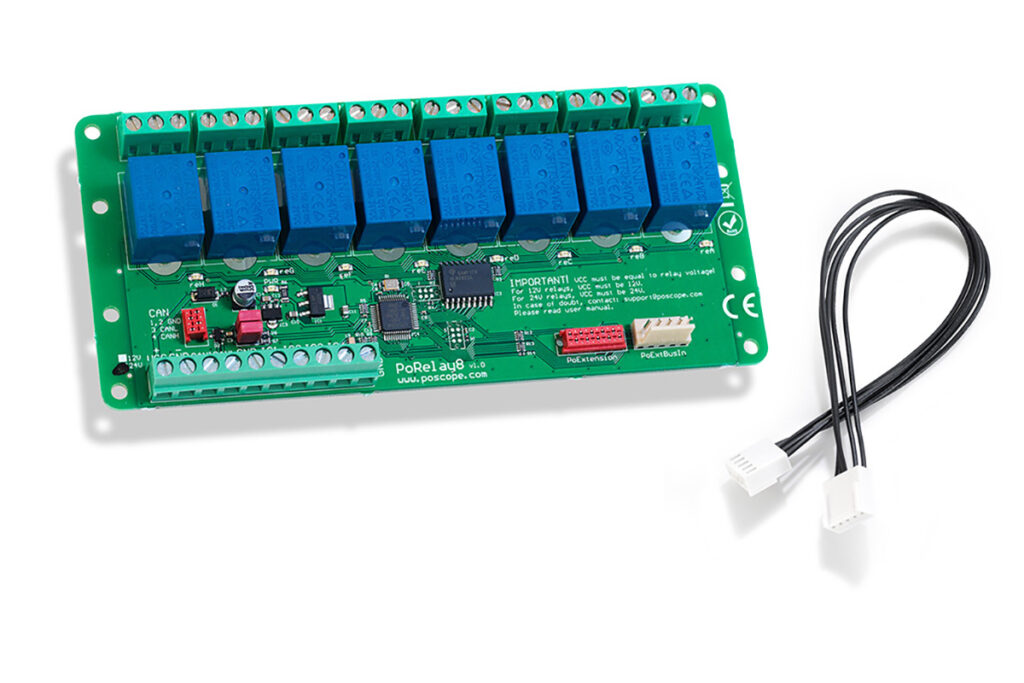 Adapter Boards
PoLabs offer many various adapter boards, which can help to easier connection to PoKeys devices. More about products, usage, and connections read in the product description or user manual.
Adapter Board 10-5
Adapter Board 10-10
AdapterBoardDiff to 5V
Isolation Adapter Board
PoNetI2Cextender
AdapterBoard10V-3V3
Board 20-20 LC
Board 20-20
Adapter Board LCD
Adapter Board ETH-8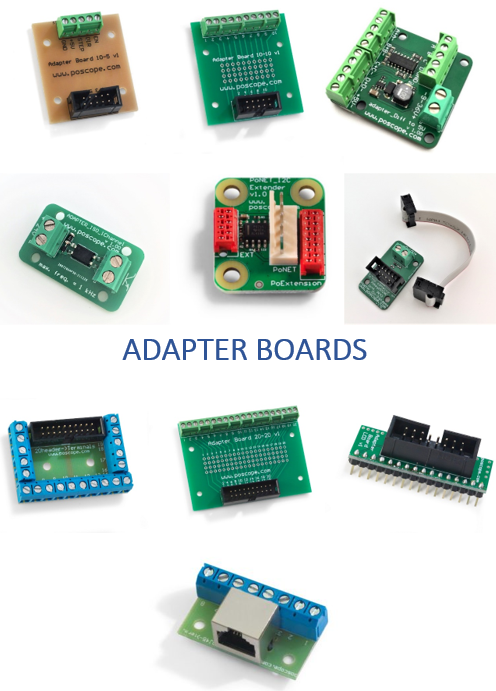 Homing Sensor
Homing sensors are based on a non-mechanical working principle, which makes them highly accurate and repeatable by not having any moving parts.
The sensors have very high accuracy and a very low failure rate. PoLabs – PoHome homing sensor will ensure accuracy in tool changes, job fixtures, homing protocols, and automation.
The homing sensor is very easy to mount and set in the perfect position on a machine or device. The sensor has a status LED to indicate the state of the sensor. It is a simple device and it is compatible with most CNC machines.
Features
High accuracy with no moving parts,
Homing repeatability within 10 microns (0,01 mm),
Water-resistant – IP rating: IP64,
Wide working voltage range 5 – 24 VDC,
2 m long high-quality flex cable,
Easy mounting using M3 screws.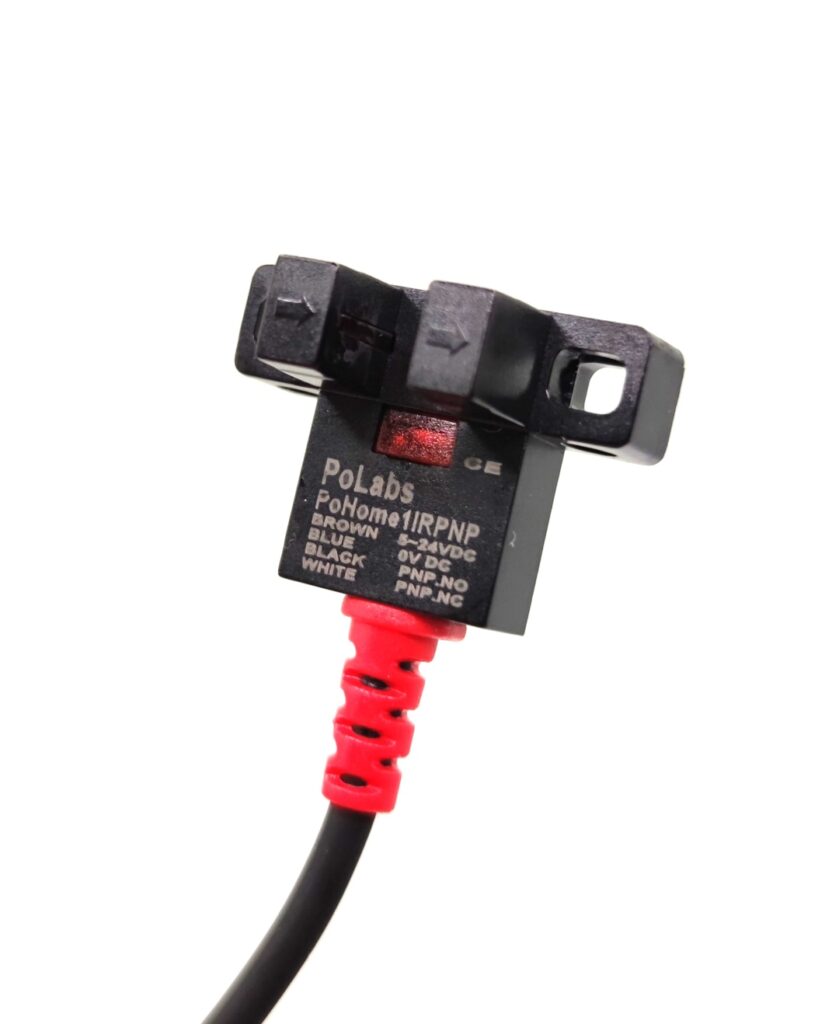 Brief explanation of CNC plasma & laser controller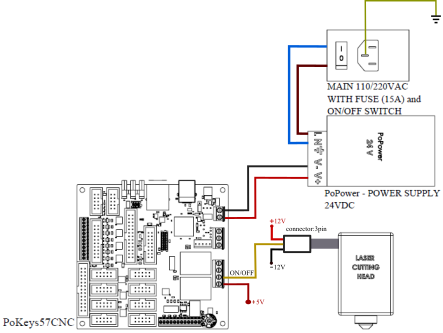 PoKeys57CNC and Torch Height Controler are well-known and used products.
PoKeys57CNC – USB CNC Controller can be used in laser cutting applications.
After many applications and usage of our product, we recommend the usage of MACH4.
Auggie- real time simuliranje, podprto za PoKeys57CNC.
Laser cutting
Laser cutting uses a high-powered laser to cut through the material. A series of mirrors and lenses direct and focus a high-energy beam of light onto the surface of the sheet where it is to be cut. When the beam strikes the surface, the energy of the beam melts or burns material underneath. The position of the laser beam relative to the sheet is precisely controlled to allow the laser to follow the desired cutting path.
To produce good quality cuts, timings for laser operation must be precise, otherwise burn marks are visible. CNC USB controller handles timings for all outputs very precisely.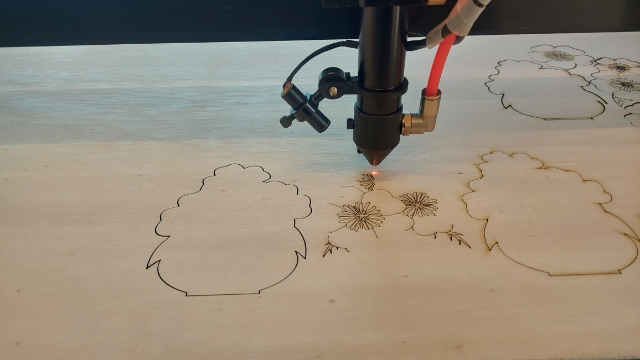 What is cnc motion controller usb
PoKeys57CNC is a hybrid device between USB PoKeys, Ethernet PoKeys, and PoKeysCNCaddon. As such, it contains an external pulse generator on-board, which is capable of driving up to 8 axes controlled by STEP/DIR signals with a maximum pulse frequency of 125 kHz.
PoKeys57CNC supported by Mach4 and Mach3 PoKeys PlugIn,
Pulse engine – fully configurable in terms of:

Axis switches configuration,
Axis motion control configuration,
Homing/ referencing procedure,
Internal motion controller parameters,
Other axis settings.
More about features, connector pinouts, and specifications, read in the PoKeys57CNC user manual.
What is cnc plasma table controller
PoKeys57CNC is also widely used in Plasma CNC machines. PoLabs offer a CNC controller and Torch height control. Support with PlugIn for Mach3 and Mach4.
Also important for applications – is the CNC plasma machine because the Plasma cutter is a huge EM interface generator:
Use separate main power outlet for the cutter and other electronics.
Make sure your grounding is OK
Use short power supply cable for the cutter.
Make short wires for connections.
Shielded cables for servo/stepper motors.
Install electronics in a metal cabinet and make a good grounding of it.
Detailed schematics of Pokeys CNC hardware connection with cnc motion controller usb & plasma table controllers
[Torch height controller] – If the CNC is the brain of your system, the Torch Height Control (THC) is your system's eyes. Using arc voltage ensures your torch or cutting head doesn't get too close or far from the plate.
PlasmaSensOut
PlasmaSensOut is a universal torch height controller (THC) for use with the PlasmaSens torch height sensor device.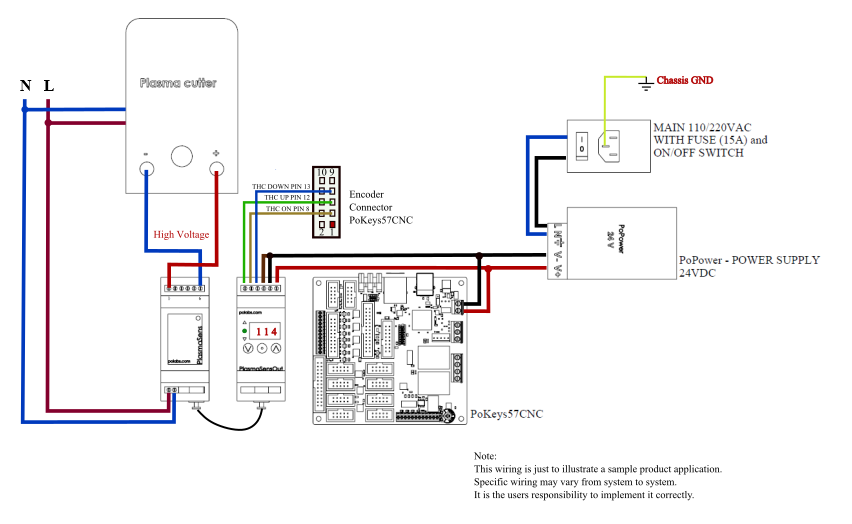 PlasmaSens
PlasmaSens is a torch height sensor for use with plasma cutter equipment. Please check more: PlasmaSens.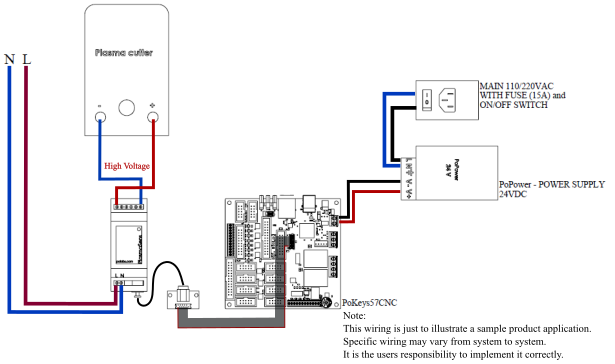 Plasma cutter voltage divider
PlasmaDiv is a galvanically isolated plasma voltage divider 50:1. The isolated start signal can be used to safely interface the THC system with the plasma cutter.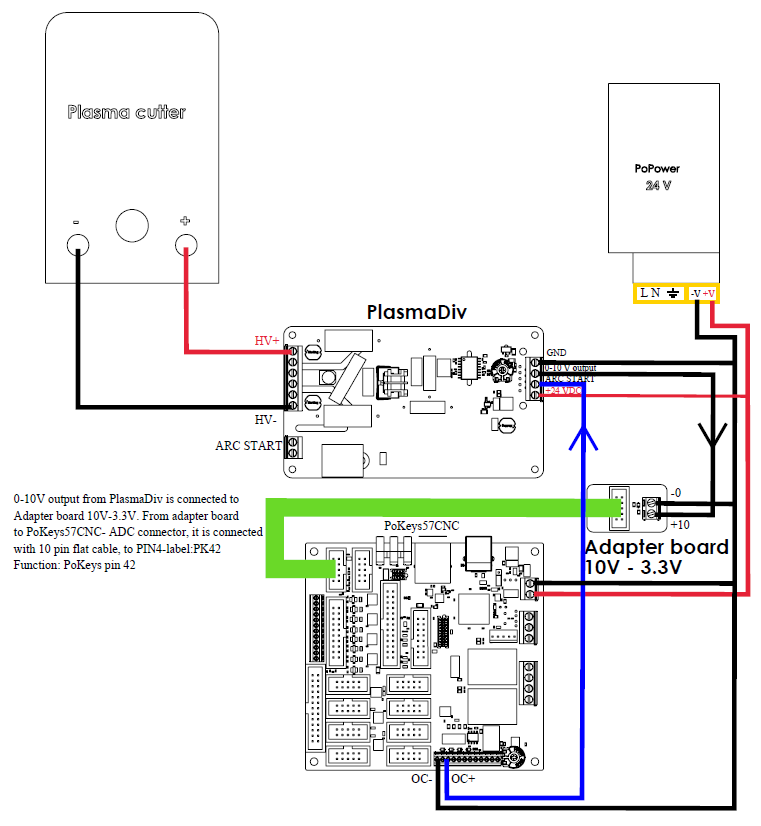 Benefits of CNC hardware & Pokeys USB CNC controller
The Pokeys CNC Hardware has many benefits which are dependent on PoKeys device features.
About
Polabs, develop and manufacture electronic products for many different areas and needs and also make some machines to make work easier, more productive, and high quality More introduction to CNC hardware & PoKeys USB CNC controller you can find in the product user manual. Here you can find some latest blog posts and products:
Related Posts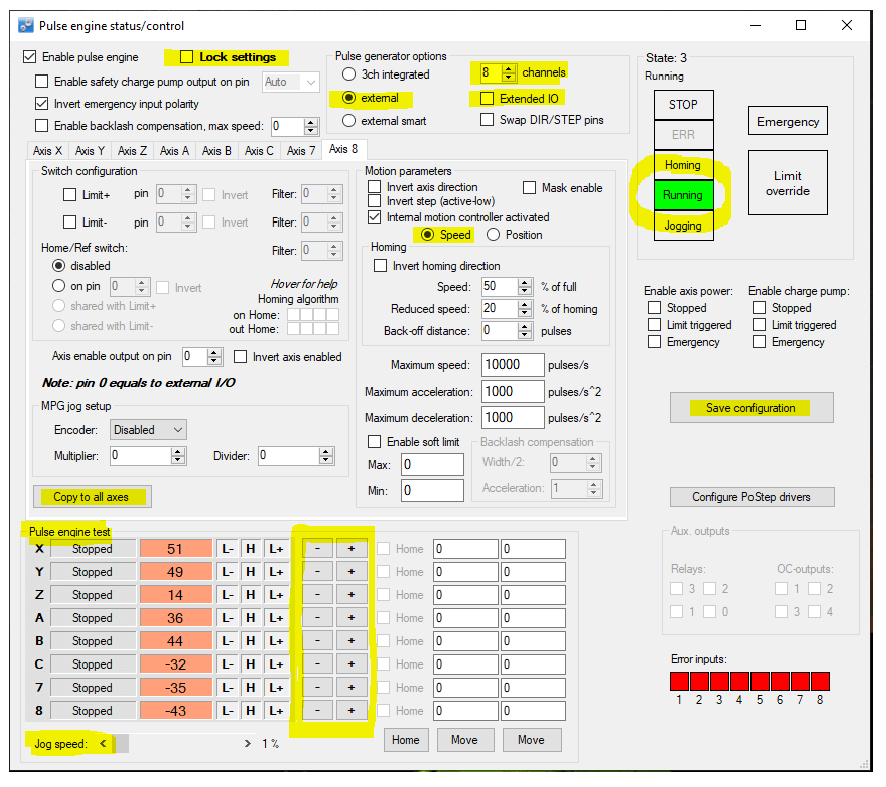 PoStepVID6606 is a new product in our series of stepper...