What is PCB tester – PoStep25-256
PoStep25-256 PCB testing device was developed for our needs, to test the Bipolar stepper motor driver PoStep25-256 the mechanical components are in the same way as present in the blog PCB testing equipment. The tester includes all components which we offer to our customers. We are very happy to use all electronics and stepper motors from our range of products. Finally, we make it and boost also production and testing capacities to the next level.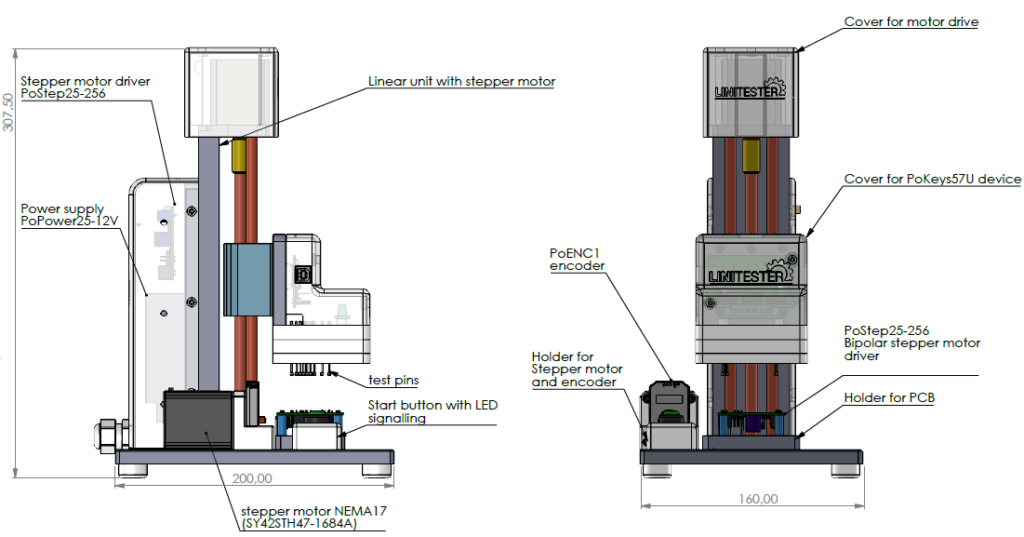 How to test PCB
Test with PCB tester is simple and precise. The In-Circuit testing allows, fast testing and clear indication if the part is not working well.
PoLabs for testing using the In-circuit testing method this method is currently the most robust and popular type of PCBA testing.
Testing method: electric probes contact PCB and send currents through specific locations on the board at designed test points. These tests can check shorts and open circuits, solder defects, possibly missing parts, or incorrect orientation of parts. All functions of the tester include:
Voltage and current measurement,
serial communication check,
microcontroller programming,
serial number saving on server.
Electronic production includes many steps before we test parts: Firstly PCB design, Secondly: mechanical design, Thirdly hardware design, and software design.
Testing fixture for PCB
The testing fixture is one of the most important mechanical parts in an assembly. The design and manufacturing of testing fixtures depend on PCB board design and which testing method we need to test PCBs.
In our case, we use a simple Aluminium base plate with positional pins made from steel.
The testing fixture is developed and manufactured in a method to eliminate problems with incorrect testing ( wrong orientation of PCB), and also damage to mechanical equipment. In the picture below is a detailed view.
It is an example of how the fixture was used in assembly.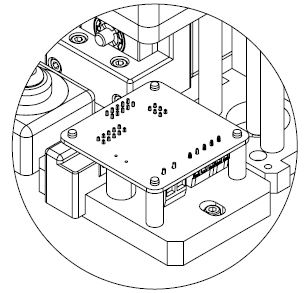 PCB testing jig
Testing jig – In process of testing PCB is many different mechanical options. It depends on the application and test cycle time on how to make the correct testing jig for the application which we need. These are decided based on the experience of our engineers which make projects into reality and work.
In the ICT method is very important the precision of mechanical components is. During the assembly, we are checking the assembled parts and geometrical tolerances. The quality of mechanical components is base for an accurate and rigid device. After assembly, the device is checked mechanically and electrically so that it works properly in production.
Test pins for PCB
PCB Testing protocol for test PoStep25-256 is not complicated. In the testing protocol, we use eleven test pins. 6 pins are assigned for power and connection to the stepper motor. Other pins are on the IDC connector which are. Most important is to test and check all pins because the quality is in the first place.
Enable,
Direction,
Step,
Error,
GND.
Test Fixture Probe Tips- for PCB tester
Spring-loaded test probes are available in a variety of tip styles, plating, spring forces, and travel to accommodate any test target. The test targets can be plated through-hole (PTH) leads, plated vias, solder pads, and bare vias.
Probe tip selection and probe tips are very important selections when developing a new PCB tester device. Choose the point style which will be most stable on the lead to minimize side loadings of the probe and extend probe life.
In our application, we use serrated probes. Because we test the connector pins in the backside of the PCB.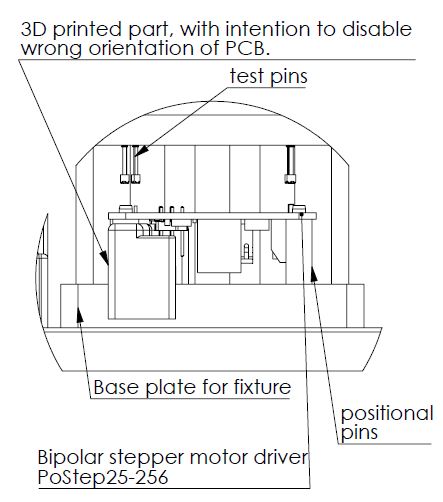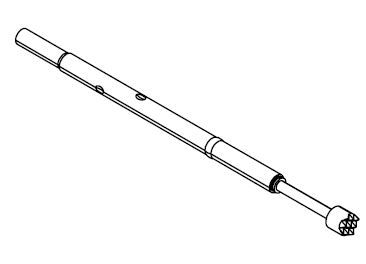 PCB testing software – PoBlocks 2.0
The PCB software is programmed in PoBlocks.
PoBlocks is a graphical programming tool for PoKeys devices. It features an intuitive and clean interface and enables the user to quickly and easily design. Deploy and debug a program that gets transferred and executed by the PoKeys device itself.
Main features:
PoBlocks – own software, absoloutely the big advantage on market: our graphical programming tool PoBlocks.
Built-in support for Structured text programming language,
GUI design – interface,
fast and easy to use.
We can develop test code using different programming environments including PoBlocks and LINITESTER software.
Developed our own Test Sequencer which offers many standard features.
We provide excellent backup and support on all our equipment and a detailed manual is provided as part of each solution.
Having provided test solutions for commercial, and medical electronics, USB CNC Controllers, CNC electronics – and CNC hardware. Manufacturing.
Benefits of PCB tester device
Firstly Detection of any faulty or missing components or incorect work.
Time savings: cycle time of testing manual and validation was close to 30 sec. The test cycle with PCB tester was 2.5 sec. There is a true huge effect and even improved quality of testing.
Cost reduction / cost efficient,
Increased safety,
Programmed with PoBlocks.
Easy to operate,
Powerfull device,
Small footprint.
As described the major benefit of the tester was cycle time, Secondly is software control and full control above quality.
PoLabs develop and manufacture the PCB test device whose process and test are automated and precise, loading on the PCBs is works manually. Because however, the quantities are not in several thousand in series, and is more efficient if we make it manually.
Devices are still improving from project to project and requirements.
Highlights:
Complete PCB tester with an interchangeable test head,
PC software for test and automation – PoBlocks,
Competitive tester for small and medium volumes.
ONE stop shop company:

Electronics design,
mechanical development, manufacturing and assembly,
software development,
setup in production and validation.
To summarize – the PoLabs team is very happy with the new tester which help us many and reduce production time, we are in focus to improve our production and development all the time.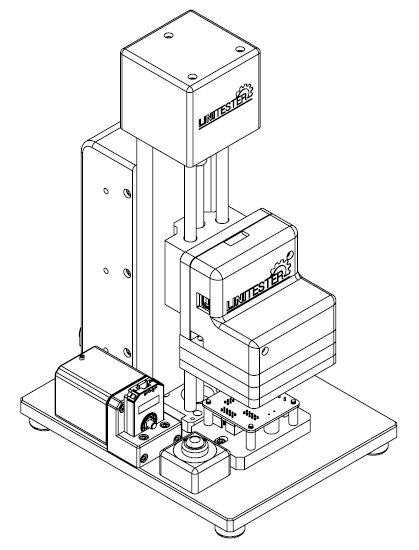 About
Polabs, develop and manufacture electronic products for many different areas and needs and also make some machines to make work easier, more productive, and high quality More introduction to CNC hardware & PoKeys USB CNC controller you can find in the product user manual. Below, here you can find some latest blog posts and products:
Related Posts