[fusion_text]PoLabs is launching PoScopeMega50 usb oscilloscope, the smallest and lowest power consumption 48MS/s USB oscilloscope, function generator and logic analyzer in one on the market. It draws only 150mA thus the best choice for measurement environments which demands power autonomy and longevity. It's especially convenient for outdoor measurements in remote places where power supply is limited and portability is very important. Integrated high quality analog to digital converters are able to sample up to 48MHz and with 8-bit data resolution at +/-30V input range. Function generator is capable of generating different pattern test signals with frequency up to 12,5kHz and maximum amplitude of 1,8Vpp. Logic analyzer captures up to 16 digital inputs and gathers data for further analysis. Included free software PoScope4 extends it's usability for many different applications.
You can read more about it here:
https://www.poscope.com/PoScopeMega50-bundle
The lowest power consumption PoScope Mega1+ oscilloscope:
https://www.poscope.com/PoScopeMega1bundle
About PoLabs: PoLabs is an European technology company with high values on high quality products and outstanding customer support. We have a variety of product families for professional environments and everyday need. PoLabs is market leader and pioneer in the high quality usb oscilloscopes, usb and ethernet CNC controllers, USB an ethernet IO interfaces and more. For more information, please visit www.poscope.com.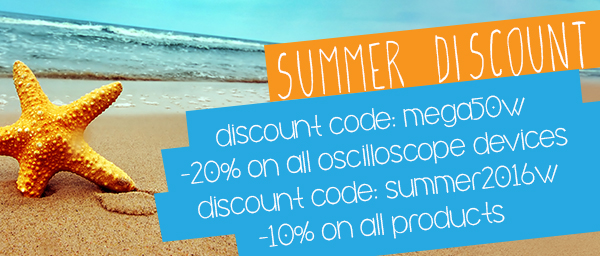 Enter discount code: mega50 To get discount on all oscilloscope devices (-20%) and for all other products Enter discount code: summer2016 in the web shop (-10%). Valid from 11.7.2016 to 25.7.2016. The code can be entered in the shopping cart right before checkout.[/fusion_text]
Related Posts