We try to keep up in touch with the modern production methods and visiting Productronica 2015 in Munich has become our tradition. It's one of the many fairs we really like to visit especially because it's located in Munich – Charming capital of Bavaria. There are many things to see or do in Munich beside fairs and it's always a great idea to spent few days here. Besides being a great event to extend our horizons, we also do some teambuilding work on new ideas and discuss the issues in more relaxed environment.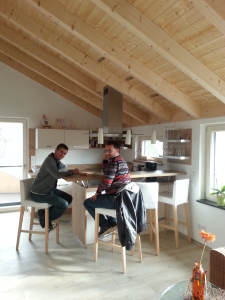 We stayed in apartment located in a small town Neufinsing which is located 25km NW out of the Munich. Neufinsing is a lovely small town close to the hydroelectric power plant with large reservoir within a walking distance from our apartment. Because we arrived a day before Productronica opened the doors, we had enough time to discover Neufinsing and all attractions it offers. Among all we discovered GokartArena and of course went racing to find out who is faster.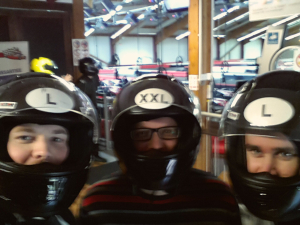 Following day we went to Messe Munich to visit Productronica 2015 fair. There were 8 exhibition halls and it took us almost whole day to see the most of it. However at the end of the day we had a luck with Mentor Graphics sweepstake and Aljoša won Anki Overdrive – Bluetooth racing cars. And yes, you guessed we spent the rest of the evening playing with the cars in our apartment. 🙂
| | | |
| --- | --- | --- |
| Boris is trying "lead free" ice cream. | We tried several soldering tools. | Racing with bluetooth cars. |
| | | |
| Matevž had the best time in our team. | Boris had a conversation with his new friend. | Equipped with promotional material. |
| | | |
| Mentor Graphics sweepstake winner Aljoša received Anki Overdrive bluetooth driven racing cars. | At the end of the long and lucky day. | Productronica 2015 |
Visiting Productronica 2015 in Munich – Last day
Last day, on the way home, we made a stop in Berchtesgaden Salzbergwerk – salt mine. Many of us had visited this salt mine before but in those years many things changed and it's always interesting and worth to visit it again. Walking through the mines and sliding down the slides can be a great adventure.
| | |
| --- | --- |
| Salzbergwerk Berchtesgaden entrance | Before the adventure. |
| | |
| Lake in the salt mine. | On the slide. |
Blogs and products
As is written if you work with modern technologies and the best products you must be innovative. PoLabs develop some new products and blog post which can give you an idea or is a point to start working with us. Please check the links:
Related Posts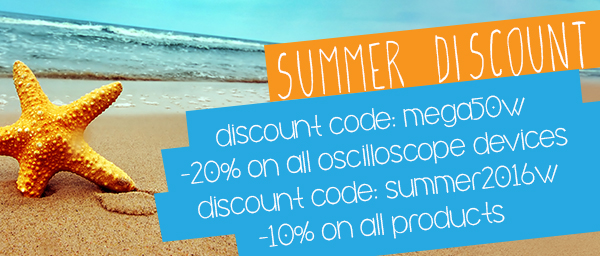 [fusion_text]PoLabs is launching PoScopeMega50 usb oscilloscope, the smallest and lowest...